Description
BETTER SLEEP MOOD FOCUS
Can we really get smarter while we sleep? How you feel when you wake up says a lot about both the night you had and the day to come. While Luna cannot claim to increase intelligence, through quality of sleep it does provide the foundation for a day of you at your best – on point, hyper focused, more social and stress free. You may find yourself recalling memories at ease and even consistently producing your best work. †
POWERDOWN LUMULTRATM with LUNA
Do you struggle to fall asleep? Most of us do. Poor diets, lack of exercise, or being unable to leave the day behind and "switch off" are all common reasons you may feel like you're endlessly going through the motions. For feeling your best, never underestimate the brain boosting recharge given during quality sleep. Benefits can include:
Can't sleep? Stressed about work? No problem. †
Strengthened Brain Functions such as Balance, Focus & Memory †
Rest Promotes Health & Longevity/better skin/appearance etc. †
Quality Sleep Aids in Fat Loss & Weight Maintenance †
Deep Sleep Enhances Mood & Emotional Intelligence †
Melatonin-Free, non habit-forming, nootropic sleep aid.
"Scientists have found evidence that the less adults sleep, the faster their brains age and that sleep problems were positively linked to declining memory and executive function in older people."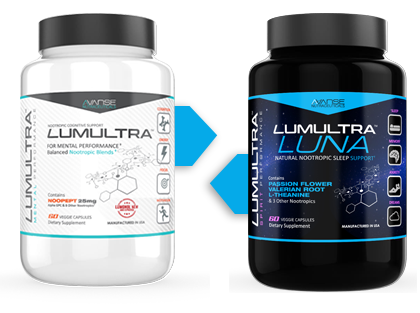 We recommend combining LumUltra with Luna for enhanced results †

Quality Sleep May
Protect Memories

Fall Asleep
Faster

Longer Quality Sleep Periods

Wake Up
Clear Headed

Quality Sleep Boosts
Cognitive Function
DOCTORS AGREE WITH LUNA'S PROVEN FORMULATION
WebMD – the most trusted source for the documentation of medical findings – lists 5 of Luna's ingredients in its Top 5 List for All-Natural Sleep Enhancers. But Luna goes a step farther with 2 additional nootropics that synergize with LumUltra Original when combining the two products… Enhanced daytime performance with more kick from LumUltra, and an awesome nights sleep to recharge with Luna…



Natural goodness from the most exotic of plant extracts offers healthy relaxation, combined with cell repair and protection during sleep. Luna's natural formulation offers quality rest, and will have you waking with clarity, energy, and elevated levels of focus and concentration.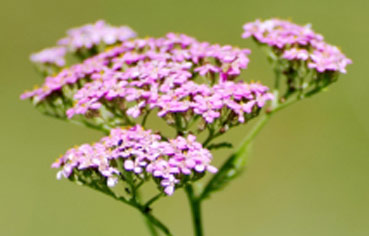 Valerian Root
A relaxing herb with natural sedating properties used for thousands of years to help with insomnia, yet also known to provide clarity of thought following a sound nights sleep †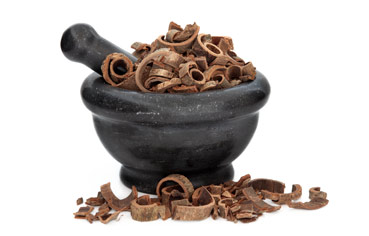 Magnolia Bark
The bark of the houpo magnolia tree are used in traditional medicine to help with anxiety, depression, and more. Many benefits of magnolia bark can be attributed to two powerful polyphenols — magnolol and honokiol. Magnolia bark may protect against the effects of oxidative stress and inflammation and may relieve stress and anxiety and improve sleep. Studies have shown magnolia bark extract appears to have protective effects against many neurological conditions.†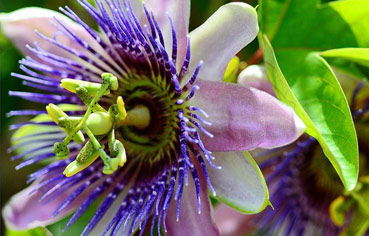 Passion Flower Herb
This calming vine has been used to help with sleep disorders, pain, insomnia, and nervous exhaustion for hundreds of years. Mother Nature's natural stress buster features in Luna †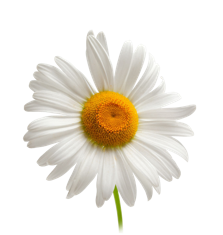 LumUltra Luna also has a proprietary formula consisting of:
Chamomile –

 A wild herb used in old medicine to relax overactive minds and help you fall asleep easier

Lemon Balm Powder –

 The leaves help alleviate restlessness and tension within the body

Magnesium Glycinate –

 Considered the most powerful relaxation mineral available

L-theanine –

 An amino acid that promotes relaxation without drowsiness and may improve the function of the body's immune system.
LET GO OF THE DAY AND WAKE TO AN EVEN GREATER TOMORROW
During the initial testing phases of Luna's design, one thing stood out above all else – how amazing everybody felt throughout the day – having taken Luna the previous night. If lagging mental and physical energy levels are leaving you feeling numb then try Luna today. Luna is perfect for:
Overthinkers and those with tireless minds
Individuals unable to enjoy quality sleep
Workers on irregular hours
Sufferers of occasional nervousness or stress
Those looking for a natural, safe supplement that helps with sleeping without habit-forming or risk of dependency.
Luna can be used as a stand-alone sleep supplement, yet is equally perfect as part of a nootropic stack when combined with LumUltra and Nova for round-the-clock busy lifestyle support.